A Look Behind the Scenes
Danish Renaissance Martial Arts during the Reign of Christian IV
Claus Frederik Sørensen

Landscape and Archaeology. Museums of Eastern Funen
Keywords:
Denmark, Soro Academy, Christian IV, Historical European Martial Arts, Martial arts, History, Renaissance
Abstract
From the 4th – 7th of July 2016, the annual International Medieval Congress was held in Leeds, England. Among the many different sessions two specifically addressed historical European martial arts. The first session discussed and commented upon modern practices and interpretations of historical European martial arts, each paper being based on good practice and the proper criteria for academic research. The second session, in which this paper was presented, went more "behind the scenes", discussing the importance of thorough analysis of the historical context which remains essential to forming a foundation for solid hypotheses and interpretations. This article discusses and sheds light upon Danish historical martial art during the reign of the Danish King Christian IV (r.1588 to 1648). At this point in time Europe consisted of many small principalities in addition to a few larger states and kingdoms. Thoughts and ideas could spread as quickly as ripples in water but also be bound by political and religious alliances or enmities, plague, famine and not to mention the role also played by topographical and cultural differences. Thus, at times, vast cultural differences could be seen from region to region. To this should be added a wide range of social factors, such as the role of relationships and mentalities, and the obeying of unspoken norms and codes which can also affect modern researchers' interpretations of what is shown or described. Therefore, the aim of this article is to provide a series of "behind the scenes" examples which all have the potential to affect hypotheses, interpretations, and overall understandings of the context of historical European martial arts.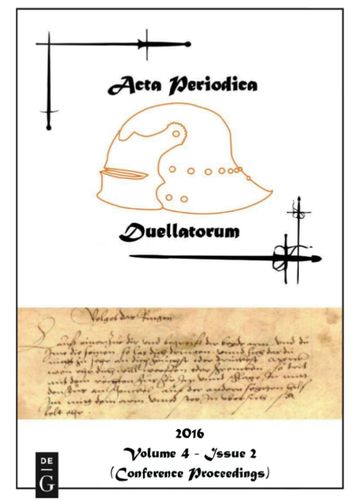 How to Cite
Sørensen, C. F. (2016). A Look Behind the Scenes: Danish Renaissance Martial Arts during the Reign of Christian IV. Acta Periodica Duellatorum, 4(2), 31–45. Retrieved from https://bop.unibe.ch/apd/article/view/6988
All works published open access with APD are licensed under a Creative Commons Attribution-NonCommercial-NoDerivatives 4.0 International License.