Prologues, Poetry, Prose and Portrayals
The Purposes of Fifteenth Century Fight Books According to the Diplomatic Evidence
Jacob Henry Deacon

Cardiff University - School of History, Archaeology and Religion
Keywords:
Diplomatics, Fifteenth Century, Fight Books, Historical European Martial Arts (HEMA), Palaeography and Manuscript Studies
Abstract
Although by far the most popular use of fifteenth century Fight Books in recent years has been their application to the study of Historical European Martial Arts and interpretations of medieval combat, this manner of learning from them was rarely what their creators had in mind. The following paper, relying primarily on the materials produced by Fiore dei Liberi, Filippo Vadi, Hans Talhoffer, and the anonymous author of Le Jeu de la Hache, will address modern practice and its connection to the source material via a study of the diplomatics of fifteenth century Fight Books, that is to say common tropes that are definitive of the genre. This has been done through analysing the roles of three of these; the purposes of introductions, of the use of language relating to the employment of either a prose or poetic structure, and the importance of the relationships between texts and illustrations. Through this application of diplomatics to Fight Books, the paper shall demonstrate how modern claims regarding authenticity are often overstated and in need of moderation.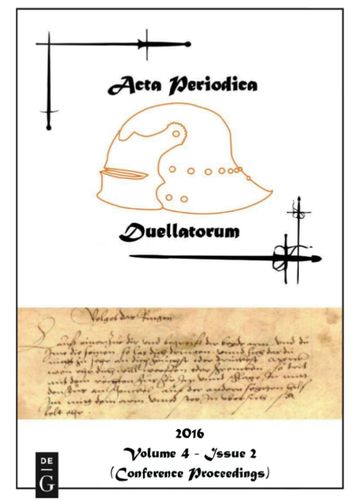 How to Cite
Deacon, J. H. (2016). Prologues, Poetry, Prose and Portrayals: The Purposes of Fifteenth Century Fight Books According to the Diplomatic Evidence. Acta Periodica Duellatorum, 4(2), 69–90. Retrieved from https://bop.unibe.ch/apd/article/view/6990
All works published open access with APD are licensed under a Creative Commons Attribution-NonCommercial-NoDerivatives 4.0 International License.