Construction of microfluidic biochips with enhanced functionalities using 3D femtosecond laser direct writing
Abstract
The extreme nonlinear interaction betweenfemtosecond laser pulses and large-band-gapmaterials has enabled three-dimensional (3D)microfabrication inside transparent materials. In thepast decade, this technique has been used forcreating a variety of functional components in glassmaterials, including microoptics, microfluidics,microelectronics, micromechanics, etc. Using thesebuilding blocks, femtosecond laser microfabricationalso allows for construction of highly integratedmicrodevices. Here, we provide an overview of ourlatest progress made along this direction, includingfocal spot engineering and nanofluidic fabrication.In particular, we show that 3D micro-/nano-fluidiccomponents with arbitrary geometries can bedirectly formed inside glass. This opens uppromising prospects for a broad spectrum ofapplications based on compact and complex 3Dmicrofluidic networks. Our work shows that thistechnique holds promise for fabricating 3D hybridmicro-systems, such as Lab-on-a-chip devices andMicro Total Analysis Systems in the future.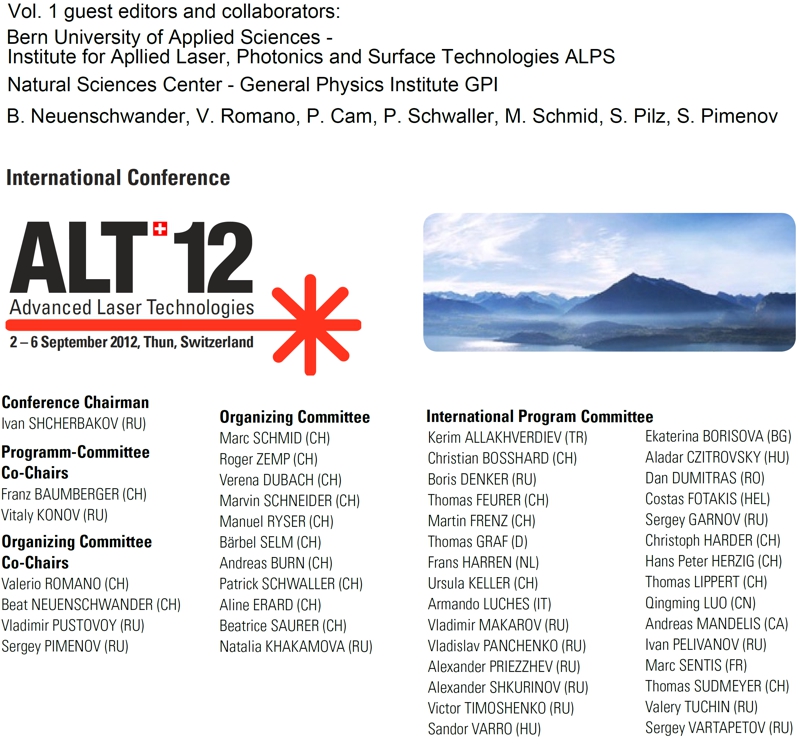 Downloads
How to Cite
Cheng, Y., Liao, Y., He, F., Qiao, L., Sugioka, K., & Midorikawa, K. (2012). Construction of microfluidic biochips with enhanced functionalities using 3D femtosecond laser direct writing. ALT Proceedings, 1. https://doi.org/10.12684/alt.1.40
Section
Laser – matter interaction and processing technologies
License
Authors who publish with this journal agree to the following terms:


Authors retain copyright and grant the journal right of first publication with the work simultaneously licensed under the Creative Commons Attribution License (CC BY 3.0) that allows others to share the work with an acknowledgement of the work's authorship and initial publication in this journal.
Authors are able to enter into separate, additional contractual arrangements for the non-exclusive distribution of the journal's published version of the work (e.g., post it to an institutional repository or publish it in a book), with an acknowledgement of its initial publication in this journal.
Authors are permitted and encouraged to post their work online (e.g., in institutional repositories or on their website) prior to and during the submission process, as it can lead to productive exchanges, as well as earlier and greater citation of published work (See The Effect of Open Access).
http://creativecommons.org/licenses/by/3.0/