Laser-induced chemical liquid-phase deposition of copper on transparent substrates
Abstract
Laser-induced chemical liquid phase deposition allows maskless manufacturing of metallic structures on the surface of dielectrics and is prospected to be a promising tool in the field of microelectronics and microfluidics. The aim of the work presented here is to combine this deposition method with a related micro-structuring method known as laser-induced backside wet etching. Fabricating both, microstructured surface structures and subsequent deposition of conducting patterns within the same setup would be an interesting tool for rapid prototyping.
To demonstrate the functional principle of this combined approach conductive copper lines were deposited at the backside of both polished and structured soda lime glass substrates by using a focused, scanning ns-pulsed Ytterbium fiber laser at 532nm wavelength. The deposition process is initiated by a photo induced reaction of a CuSO4-based liquid precursor in contact with the backside of the substrate. The obtained metallic copper deposits are crystalline, stable under ambient conditions and have a conductivity in the same order of magnitude as bulk copper.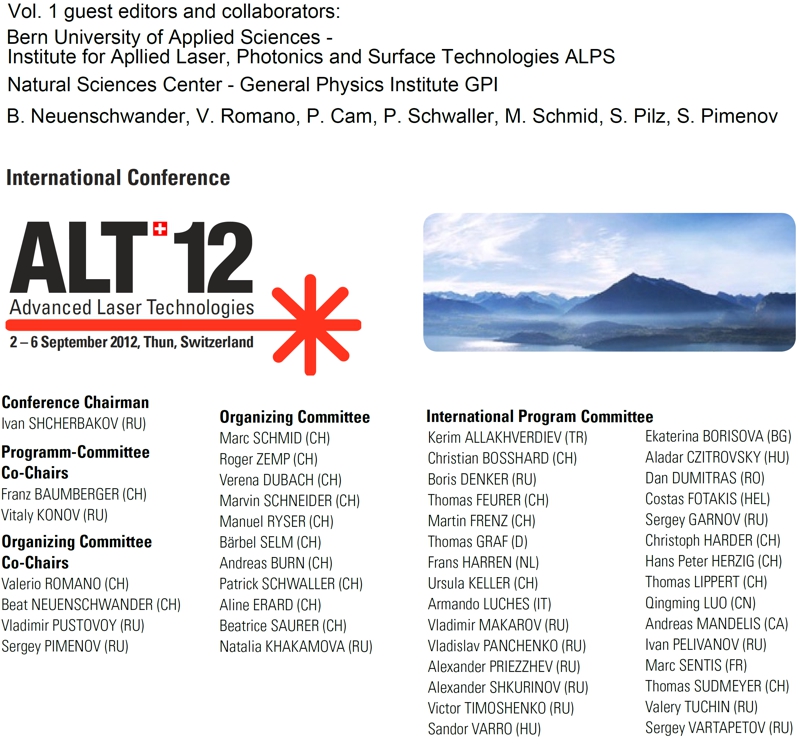 Downloads
How to Cite
Zehnder, S., Schwaller, P., von Arx, U., & Neuenschwander, B. (2012). Laser-induced chemical liquid-phase deposition of copper on transparent substrates. ALT Proceedings, 1. https://doi.org/10.12684/alt.1.42
Section
Laser – matter interaction and processing technologies
License
Authors who publish with this journal agree to the following terms:


Authors retain copyright and grant the journal right of first publication with the work simultaneously licensed under the Creative Commons Attribution License (CC BY 3.0) that allows others to share the work with an acknowledgement of the work's authorship and initial publication in this journal.
Authors are able to enter into separate, additional contractual arrangements for the non-exclusive distribution of the journal's published version of the work (e.g., post it to an institutional repository or publish it in a book), with an acknowledgement of its initial publication in this journal.
Authors are permitted and encouraged to post their work online (e.g., in institutional repositories or on their website) prior to and during the submission process, as it can lead to productive exchanges, as well as earlier and greater citation of published work (See The Effect of Open Access).
http://creativecommons.org/licenses/by/3.0/