Self-Q-switched Cr,Nd:ReVO4 (Re=Gd, Y) crystal lasers
Abstract
Self-Q-switched Cr,Nd:ReVO4 (Re=Gd, Y) crystallasers are demonstrated. The spectroscopic and self-Q-switched laser properties of Cr,Nd:ReVO4 arestudied. Polarized absorption spectra weremeasured at room temperature, which showed thatthe absorption bands display polarization characterand an absorption band of Cr5+ ions at 1110 nmenables the crystals to be self-Q-switched lasermaterials. The maximum pulse energy are achievedto be 1.12 μJ with Re=Gd , and the shortest pulsewidth is 85.8 ns with Re=Y. The results show thatCr,Nd:ReVO4 crystals are new potential self-Qswitchedlaser materials.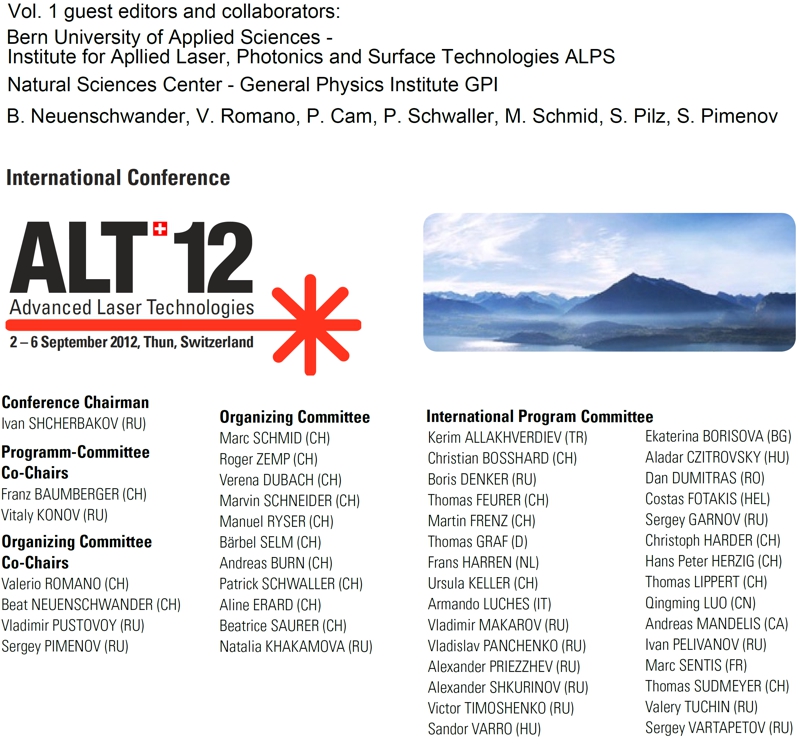 Downloads
How to Cite
Yu, H., & Zhang, H. (2012). Self-Q-switched Cr,Nd:ReVO4 (Re=Gd, Y) crystal lasers. ALT Proceedings, 1. https://doi.org/10.12684/alt.1.69
Section
Laser systems and materials
License
Authors who publish with this journal agree to the following terms:


Authors retain copyright and grant the journal right of first publication with the work simultaneously licensed under the Creative Commons Attribution License (CC BY 3.0) that allows others to share the work with an acknowledgement of the work's authorship and initial publication in this journal.
Authors are able to enter into separate, additional contractual arrangements for the non-exclusive distribution of the journal's published version of the work (e.g., post it to an institutional repository or publish it in a book), with an acknowledgement of its initial publication in this journal.
Authors are permitted and encouraged to post their work online (e.g., in institutional repositories or on their website) prior to and during the submission process, as it can lead to productive exchanges, as well as earlier and greater citation of published work (See The Effect of Open Access).
http://creativecommons.org/licenses/by/3.0/