Infrared broadband source from 1000nm to 1700nm, based on an Erbium, Neodymium and Bismuth doped double-clad fiber
Abstract
A Nd3+, Er3+ and Bi3+ doped double-clad fiber (core diameter of 25.5μm, cladding diameter of 125μm) with a broad infrared emission has been fabricated based on technique of dry granulated oxides and investigated. Upon the excitation with a 800nm cw pump source all of the three dopant materials showed fluorescence in the infrared region of interest (1000-1700nm). The observed emitted fluorescence power was measured to be 659μW. Changing the pump wavelength to 976nm led to a fluorescence of only Er3+ and Bi3+ and a broadening of the Bi3+ emission peak. The maximal measured fluorescence output power was 1.42mW, when pumped at 976nm.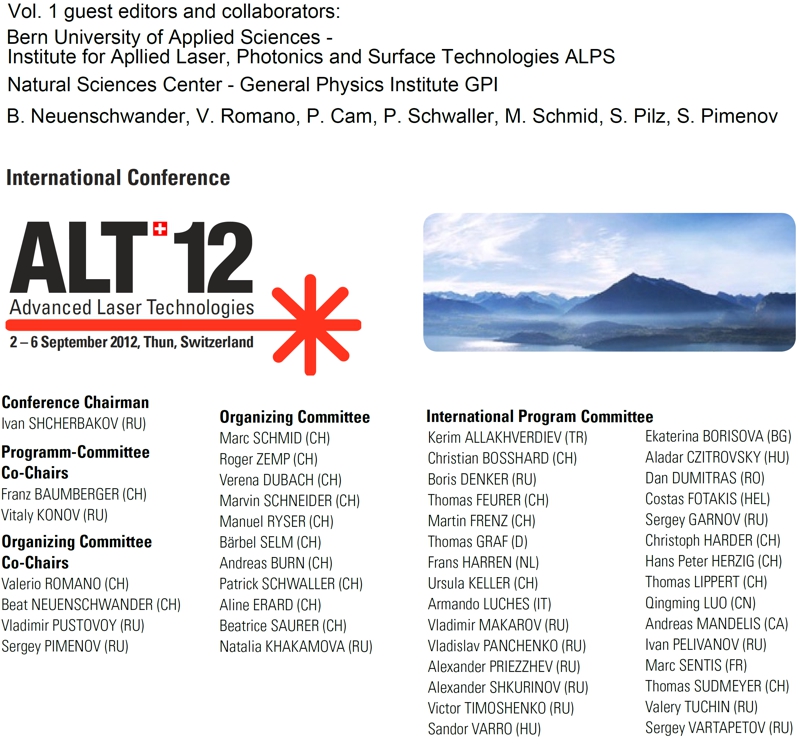 Downloads
How to Cite
Pilz, S., Etissa, D., Barbosa, C., & Romano, V. (2012). Infrared broadband source from 1000nm to 1700nm, based on an Erbium, Neodymium and Bismuth doped double-clad fiber. ALT Proceedings, 1. https://doi.org/10.12684/alt.1.73
License
Authors who publish with this journal agree to the following terms:


Authors retain copyright and grant the journal right of first publication with the work simultaneously licensed under the Creative Commons Attribution License (CC BY 3.0) that allows others to share the work with an acknowledgement of the work's authorship and initial publication in this journal.
Authors are able to enter into separate, additional contractual arrangements for the non-exclusive distribution of the journal's published version of the work (e.g., post it to an institutional repository or publish it in a book), with an acknowledgement of its initial publication in this journal.
Authors are permitted and encouraged to post their work online (e.g., in institutional repositories or on their website) prior to and during the submission process, as it can lead to productive exchanges, as well as earlier and greater citation of published work (See The Effect of Open Access).
http://creativecommons.org/licenses/by/3.0/