Supercontinuum Generation over 2 µm
Abstract
Effective supercontinuum generation in fiber mediain spectral range over 2 μm was experimentallydemonstrated. Supercontinuum generation wasobserved in passive optical fibers. Maximumspectral broadening was obtained in germaniumdopedfibers with longest wavelength near 2.7 μm.To provide high spectral density we used opticalfiber amplifiers. Thus supercontinuum generationwas obtained in holmium optical fiber amplifiersmedium with spectral density 10 W/nm, in therange from 2 to 2.5 μm. In thulium fiber amplifiersobserved amplification not only in conventionalrange near 1.8 μm, but in spectral range from 2.3 to2.5 μm, that corresponds to 3H4→ 3H5 opticaltransition possibility in thulium-doped opticalfibers.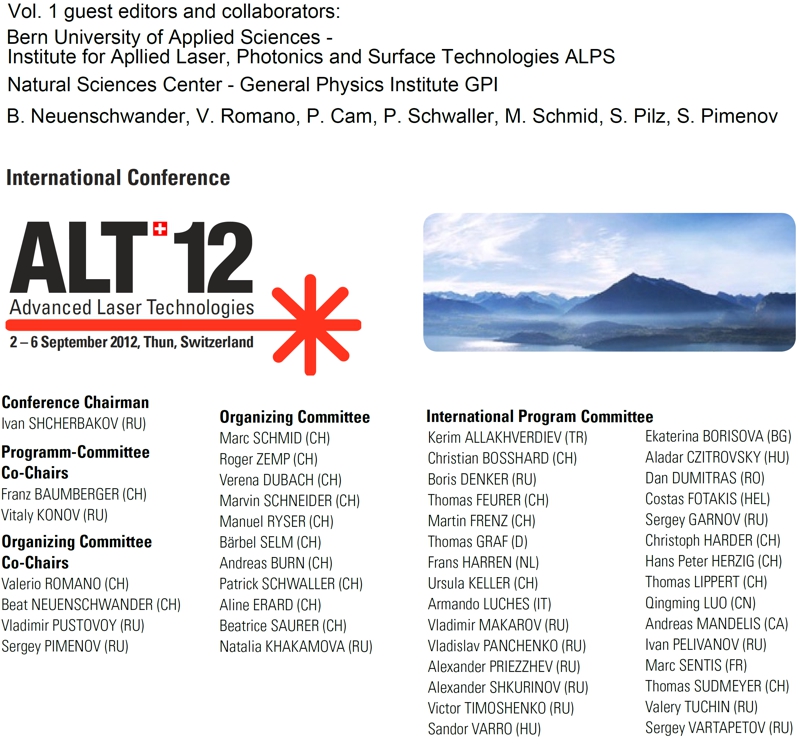 Downloads
How to Cite
Kamynin, V., Kurkov, A., Sadovnikova, Y., & Tsvetkov, V. (2012). Supercontinuum Generation over 2 µm. ALT Proceedings, 1. https://doi.org/10.12684/alt.1.74
License
Authors who publish with this journal agree to the following terms:


Authors retain copyright and grant the journal right of first publication with the work simultaneously licensed under the Creative Commons Attribution License (CC BY 3.0) that allows others to share the work with an acknowledgement of the work's authorship and initial publication in this journal.
Authors are able to enter into separate, additional contractual arrangements for the non-exclusive distribution of the journal's published version of the work (e.g., post it to an institutional repository or publish it in a book), with an acknowledgement of its initial publication in this journal.
Authors are permitted and encouraged to post their work online (e.g., in institutional repositories or on their website) prior to and during the submission process, as it can lead to productive exchanges, as well as earlier and greater citation of published work (See The Effect of Open Access).
http://creativecommons.org/licenses/by/3.0/