Application of Photothermal and Photoacoustic Spectroscopy for the Monitoring of Aqueous Dispersions of Carbon Nanomaterials
Abstract
Photothermal  and  optoacoustic  spectroscopy  in their  state-of-the-art  techniques—multiwavelength, scanning  and  transient—are  used  for  complex investigation  and analysis  (chemical  analysis  and the  estimation  of  physicochemical  properties and size)  of  novel  carbon  materials—fullerenes  and nanodiamonds—and  their aqueous  dispersions  as promising biomedical nanosystems. The estimation of the cluster size and the possibilities to determine subnanogram  amounts  of  both nanodiamonds  and fullerenes  by  these  techniques  are  shown.  The comparison  of fullerene  solutions  in  various solvents,  toluene, N-methylpyrrolydone and  water, is made.  The  advantages  of  the  photothermal  and optoacoustic  techniques  over conventional spectroscopies  and  the  current  limitation  are discussed. The necessity to develop robust  models for  transient  and  imaging  photothermal  techniques is outlined.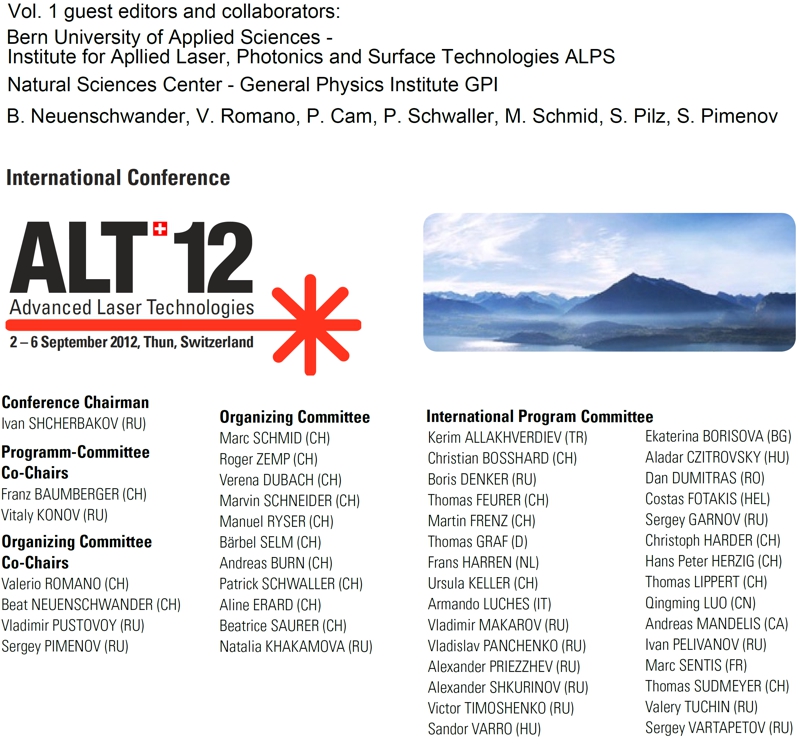 Downloads
How to Cite
Volkov, D., Proskurnin, M., Mikheev, I., Vasil'ev, D., Korobov, M., Nedosekin, D., & Zharov, V. (2012). Application of Photothermal and Photoacoustic Spectroscopy for the Monitoring of Aqueous Dispersions of Carbon Nanomaterials. ALT Proceedings, 1. https://doi.org/10.12684/alt.1.94
License
Authors who publish with this journal agree to the following terms:


Authors retain copyright and grant the journal right of first publication with the work simultaneously licensed under the Creative Commons Attribution License (CC BY 3.0) that allows others to share the work with an acknowledgement of the work's authorship and initial publication in this journal.
Authors are able to enter into separate, additional contractual arrangements for the non-exclusive distribution of the journal's published version of the work (e.g., post it to an institutional repository or publish it in a book), with an acknowledgement of its initial publication in this journal.
Authors are permitted and encouraged to post their work online (e.g., in institutional repositories or on their website) prior to and during the submission process, as it can lead to productive exchanges, as well as earlier and greater citation of published work (See The Effect of Open Access).
http://creativecommons.org/licenses/by/3.0/