A Lost Fight Book: Alfred Lister and the Noble Art of Self-Defence in China
Benjamin N. Judkins

Cornell University East Asia Program
Keywords:
Chinese martial arts, Kung Fu, Guagdong, Southern China, Hong Kong, Guangzhou, Hero Boxing, Alfred Lister, Translation
Abstract
In 1874 an anonymous author published a partial English language translation and discussion of a now lost Southern Chinese martial arts manual originally titled Tearing Down Techniques of Hero Boxing. This was a critical period in the development of the modern Chinese martial arts. Many of the best known Southern Chinese fighting systems (Hung Gar, Choy Li Fut, Wing Chun, White Crane, etc.) were just starting to assume a recognisable form. Yet it is also a poorly understood era. Just as importantly, it was during the mid- and late nineteenth century that Western soldiers, administrators and adventurers first began to encounter and describe the Chinese martial arts. For better or worse, their records would help shape the perception of China in the popular imagination. This chapter begins by identifying Alfred Lister, a civil servant in Hong Kong, as the previously unknown author of this English language work. It then attempts to reconstruct the structure and contents of the now lost fight book which he encountered. Lastly it investigates the consequences of the misreading of this text.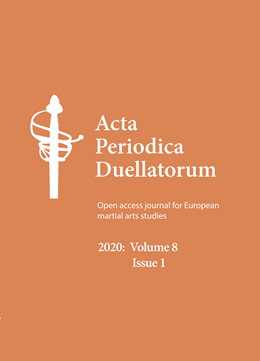 How to Cite
Judkins, B. N. (2020). A Lost Fight Book: Alfred Lister and the Noble Art of Self-Defence in China. Acta Periodica Duellatorum, 8(1), 229-252. https://doi.org/10.36950/apd-2020-013
All works published open access with APD are licensed under a Creative Commons Attribution-NonCommercial-NoDerivatives 4.0 International License.