The Hanging Guard: William Hope's (1660-1724) Invention of Self-defence and the Spirit of Enlightenment
Alexander Will

independent scholar
Keywords:
William Hope, Smallsword, duelling, self-defence, enlightment, Scotland
Abstract
Fight books can be much more than repositories of knowledge or cornerstones of tradition. In some cases they may also reflect fundamental changes in the intellectual and social life of a society and even attempt to change the latter for the better. This is very much true for the works of William Hope (1660-1724). In eight printed books the Scotsman covered a wide range of topics connected to smallsword fencing and duelling. He employed early scientific methods when developing his school of swordplay, reflected on the social implications of fencing, introduced the notion of "sport for better health" into early modern fencing, and sought to institutionalise fencing in order to curb violence. As a whole this reflects the mindset of the early Enlightenment as it started to flourish in Hope's native Scotland during his lifetime. This paper will answer the question of how the early Enlightenment influenced a set of remarkable Scottish fight books from the early modern period.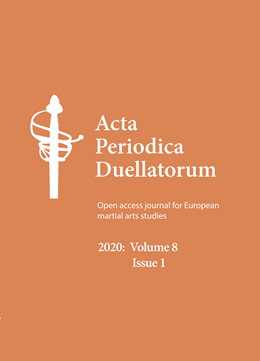 How to Cite
Will, A. (2020). The Hanging Guard: William Hope's (1660-1724) Invention of Self-defence and the Spirit of Enlightenment. Acta Periodica Duellatorum, 8(1), 105-122. https://doi.org/10.36950/apd-2020-007
All works published open access with APD are licensed under a Creative Commons Attribution-NonCommercial-NoDerivatives 4.0 International License.