The Sword Exercises of the British Cavalry: 1796-1858
Keywords:
British Cavalry swordsmanship, British Cavalry swords, John Gaspard Le Marchant, Henry Angelo Junior, Rules and Regulations for the Sword Exercise of the Cavalry, Instructions for the Cavalry Sword Exercise
Abstract
From the late eighteenth century the British military produced official 'fight books' outlining the methods with which the cavalry were to use their swords. As these 'fight books' were military manuals for instructors, designed to turn trainees into effective soldiers they are, for the most part, clear and precise compared to the sometimes esoteric nature of earlier 'fight books'. In addition, as they coincided with the introduction of standard patterns of cavalry swords the exact types of swords employed can be established. Hence, unusually in fight book studies, a full picture of why these works were produced, who they were aimed at, how widely they were disseminated and what exact forms of weapons these precise techniques were to be employed with can be known. The existence of contemporary accounts and other supplementary evidence can also help us understand how such 'fight books' were received and how effectively the theory contained within was borne out in practice on the battlefield. Over the first sixty years of British cavalry sword exercises, the role of cavalry and the threats they faced from other arms and weapon technologies did not drastically alter; but the way they fought with swords, and the swords themselves, did undergo considerable change.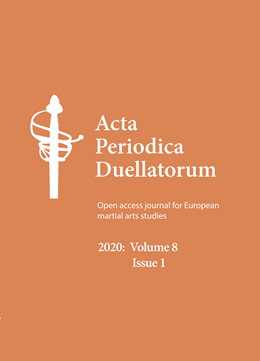 How to Cite
Yallop, H. (2020). The Sword Exercises of the British Cavalry: 1796-1858. Acta Periodica Duellatorum, 8(1), 123-156. https://doi.org/10.36950/apd-2020-008
All works published open access with APD are licensed under a Creative Commons Attribution-NonCommercial-NoDerivatives 4.0 International License.