Can We Learn Martial Arts Through Books? The Revival of Korean Fight Books Through Transmission and Reconstruction
Bok Kyu Choi

Korean Institute for Martial Arts
Keywords:
martial arts studies, fight books, invented martial arts, tradition, authenticity, Korean martial arts
Abstract
Fight books can be defined as texts specialising in the theories of martial arts and the instruction  of techniques (for future generations) based on actual experience of real fighting and training. According to this definition, today's efforts to reconstruct classical martial arts based upon historic fight books, in both East and West, are attempts to resurrect something extinct. Traditional East Asian martial artists, however, often argue that there are substantial limits in the reconstruction process of, for example, medieval European martial arts given the discontinuity of embodied knowledge, especially when compared to the Asian arts' presumed strong transmission from generation to generation without interruption. Both seem quite different, but they share the epistemological assumption that authentic archetypes of martial arts did exist at some point in the past and believe it possible to transmit or reconstruct them in the present. This paper examines the limitations to the hypothesis of the existence of martial arts archetypes by examining the discourse surrounding the inherited tradition of the Muyedobotongji in Korea. The authors of the Muyedobotongji successfully synthesised and standardised contemporary East Asian martial arts and shared that knowledge from the perspective of Joseon[1] in the late eighteenth century. Now, after 200 years, we must do our part to breathe new life into it for this era.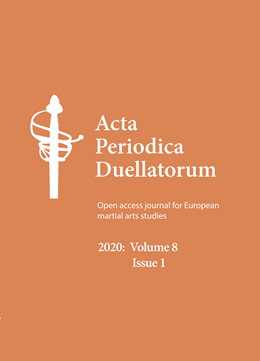 How to Cite
Choi, B. K. (2020). Can We Learn Martial Arts Through Books? The Revival of Korean Fight Books Through Transmission and Reconstruction. Acta Periodica Duellatorum, 8(1), 199-228. https://doi.org/10.36950/apd-2020-012
All works published open access with APD are licensed under a Creative Commons Attribution-NonCommercial-NoDerivatives 4.0 International License.