Contextualising Pietro Monte's Military Career in Italy
Pascal Brioist

Centre for Higher Renaissance Studies, Tours
Keywords:
Pietro Monte, condotierre, military career, Italy
Abstract
Several scholars have studied Pietro del Monte's works, but only a few have focused on his military career. This article contextualises his career as a condotierre, primarily by collecting and commenting on narrative sources describing his life. From the Italian and Spanish courts where he mingled with the brightest minds of his time, to the Italian Wars where he met his death on the battlefield, Monte lived as an acting commander, a respected scholar, and a renowned master at arms.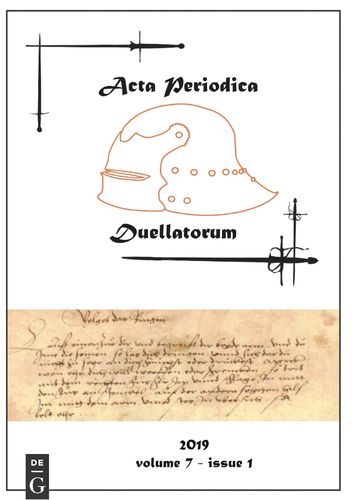 How to Cite
Brioist, P. (2019). Contextualising Pietro Monte's Military Career in Italy. Acta Periodica Duellatorum, 7(1), 217–227. Retrieved from https://bop.unibe.ch/apd/article/view/6875
All works published open access with APD are licensed under a Creative Commons Attribution-NonCommercial-NoDerivatives 4.0 International License.