Reflection of Identity in the Mirror of Narrative Images
Reproduction of the Idea of the Just Rule in the Portraits of Nasir al-Din Shah Qajar
Keywords:
Qajar Art, Persian Court, Illustrated Manuscript, One Thousand and One Nights, Nasir al-Din Shah Qajar
Abstract
The concept of "Just Rule" historically served to shape a king's image and bolster the monarchy's structure, often emulated by courtiers seeking to be part of the inner circle and perpetuating the idea of a Just Ruler. Influenced by the king's interests, figures like Nasir al-Din Shah Qajar (r. 1848-1896) fostered monarchic strength through praises and art, particularly in the Nasiri era.
These illustrations, blending literature and visual art, became sought-after for adorning manuscripts and enhancing printed books during this period. This study examines Nasir al-Din Shah's portrayal in the One Thousand and One Nights manuscript (1852-1859), overseen by Abul-Hassan Ghaffari, Saniʿ al-Mulk (d. 1865). Characters resembling Nasir al-Din Shah appear throughout the manuscript. The study aims to analyze these images in relation to the manuscript's content and their role in the discourse on portrait illustrations. Additionally, it explores how the idea of Just Rule was perpetuated by the patrons and artists involved in creating this manuscript.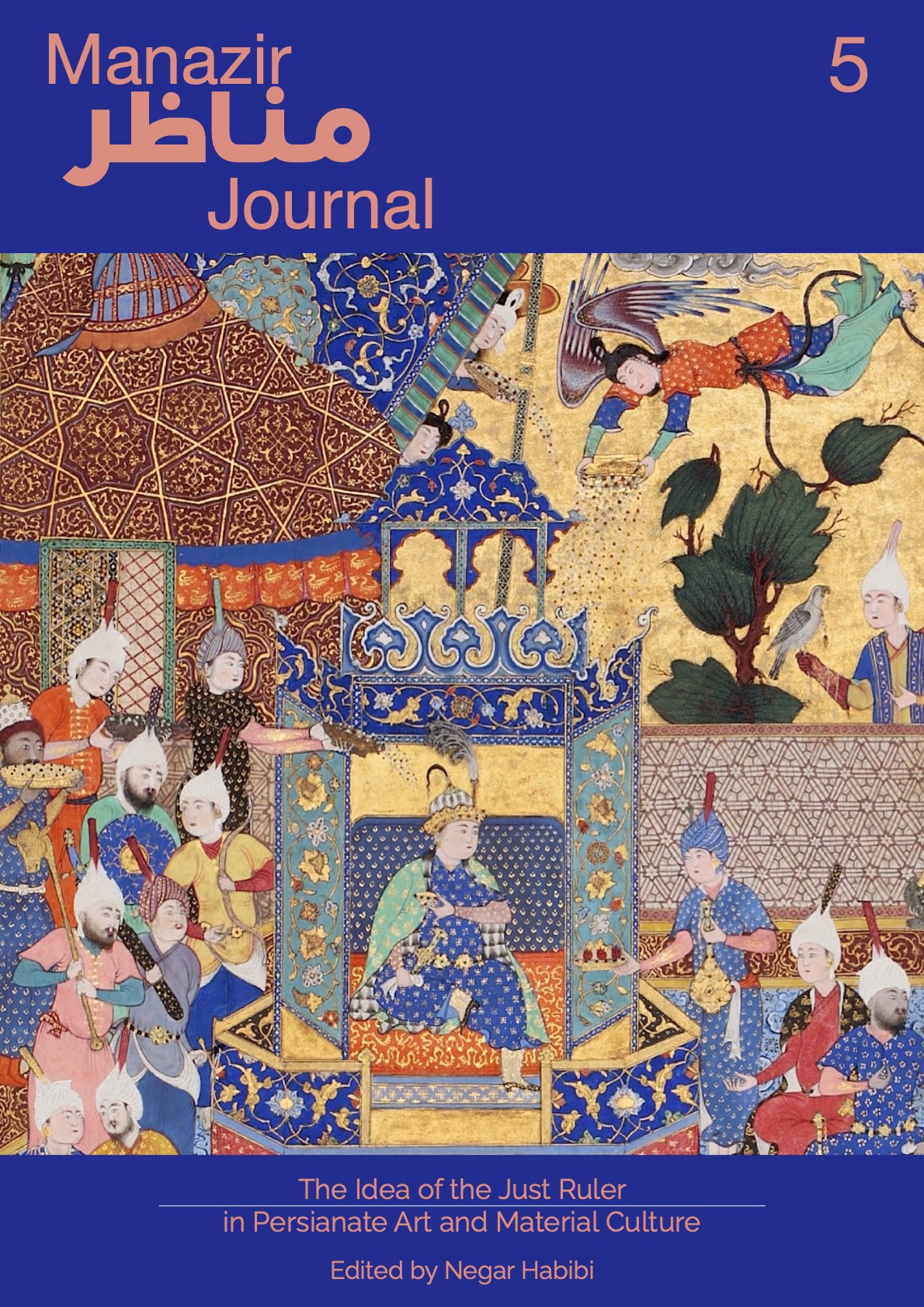 How to Cite
Boozari, A. (2023). Reflection of Identity in the Mirror of Narrative Images: Reproduction of the Idea of the Just Rule in the Portraits of Nasir al-Din Shah Qajar. Manazir Journal, 5, 160–176. https://doi.org/10.36950/manazir.2023.5.8
License
Copyright (c) 2023 Ali Boozari
This work is licensed under a Creative Commons Attribution-NoDerivatives 4.0 International License.