« Camp » dira-t-on
une cité improvisée
Lilia Benbelaïd

Architecte
Keywords:
art, architecture, corps, espace, camp
Abstract
What is the function of a temporary shelter when it becomes a permanent part of an environment? What is the architect's role in an environment where inhabitants are tasked with the construction of their own shelters? These questions summarize the primary motivations for why I came to the refugee camp of Chatila in Beirut. Constructed in 1949 on the edge of the capital, the refugee camp remains connected to the larger urban fabric of the city despite resting on both geographic and social peripheries. Gaining access to the camp is no easy task as those who do not live there are easily identified. In order to maintain a form of accessibility to the camp, I brought with me a pen and paper with the goal of documenting the streets, alleys and architectures. While still an "outsider," with the medium of sketch I was able to capture scenes of daily life, engaging the environment with a subjective analysis of the different landscapes and interstices that defined the camp. This artistic practice became more than just a subjective practice, initiating the first link between a place and those who inhabit it daily with the hope of awakening semblances of desires and dreams. From the perspective of an architect, these sketches can be seen as a foundation for the preservation and appropriation of a courtyard (inaugurated in 1996) found at the heart of Chatila. This courtyard is a rare exception to the architecture of the camp and has given rise to the Farasheh Project. Here the inhabitants are placed at the center in a space that allows bodies to express themselves and voices to be raised.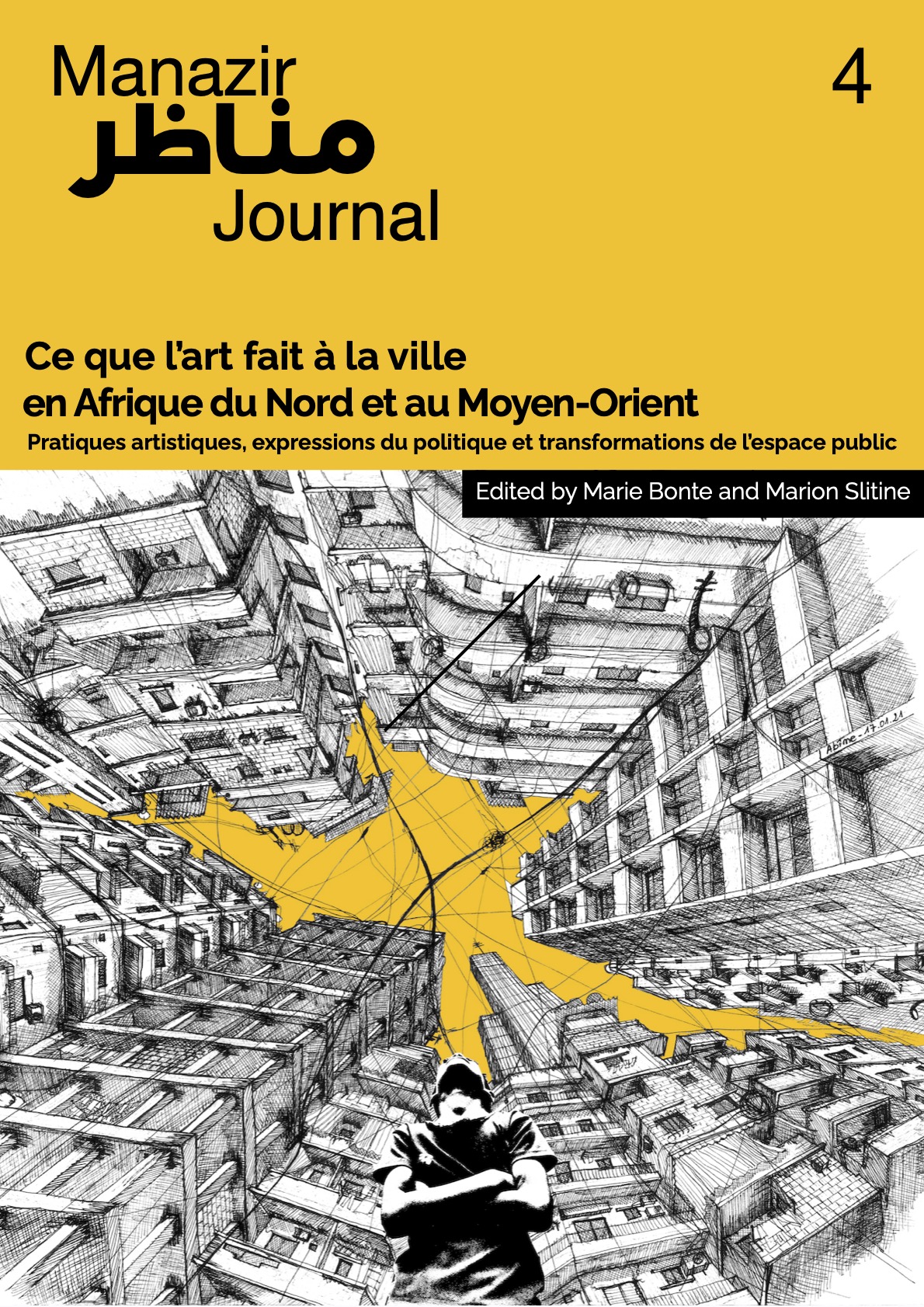 How to Cite
Benbelaïd, L. (2022). « Camp » dira-t-on: une cité improvisée. Manazir Journal, 4, 156–165. https://doi.org/10.36950/manazir.2022.4.9
License
Copyright (c) 2022 Lilia Benbelaïd
This work is licensed under a Creative Commons Attribution-NoDerivatives 4.0 International License.